Core Staff
School Factory currently uses a Co-Director leadership model, which allows James and Diana to make important decisions together while also applying their respective strengths to take primary responsibility for certain areas of management.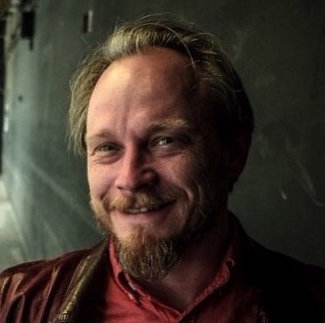 James Carlson, Founder & Co-Director
James started School Factory in 2003 when he launched Bucketworks. He has been at the helm ever since, initiating new programs like our consulting and fiscal sponsorship services, and building a vision for what is possible.
He currently manages our consulting program and is building strategic partnerships around the world. He collaborates with Diana to set the ongoing strategic direction for the organization and execute on what comes next.
James is an entrepreneur, a technologist, an artist, and more. His experience brings strength to School Factory's focus on STEM/STEAM learning and creativity, and forms the backbone of our insight into collaborative spaces.
Diana Luepke, Operations Manager & Co-Director
Diana started working with School Factory in late 2013. Her role gradually expanded over time, culminating in her role as Co-Director in early spring of 2016.
Diana manages most of School Factory's day-to-day operations, including finance, legal, HR, and customer support functions. She manages the program hosting and fiscal sponsorship programs, and collaborates with James to set the strategic direction for the organization, execute projects, and build partnerships. She assists with many of the organization's consulting projects as well.
Diana brings strength to our operational effectiveness and to our focus on social & self management learning. She is passionate about mindfulness practices, group process, healthy communication, and building sustainable systems.
School Factory Board of Directors
We are grateful for the support and governance provided by our board of directors!
President: Karen Aronson
Treasurer: Scott Hill
Secretary: Sharon Leshner
Sylvia Wilson
Thomas Wilson
Hosted Programs
With the exception of Mary's role for Bridge Foundry, all of our hosted programs are completely volunteer run. While we feature the program managers for our most active internal programs on this page, there are many other volunteers in our network running additional hosted programs and filling out the teams for those featured here. There is no way that we could list all of these individuals here, but their efforts and dedication deserve our thanks and admiration!
Mary Jenn, Bridge Foundry Operations Manager
Mary manages the day-to-day operations for Bridge Foundry and serves as a resource for volunteers in leadership roles and local chapters. She works with Sarah to bring greater organization to the program and grow it to the next level.
Mary became involved with Bridge Foundry in 2010 when she took one of the first RailsBridge workshops. After years of experience volunteering, organizing, and mentoring other organizers, she became Bridge Foundry's only ongoing paid staff person in 2015.
She is passionate about her mindfulness practice, building strong processes, social justice, and Bridge Foundry's mission.
Sarah Allen, Bridge Foundry Program Manager
Sarah founded and manages Bridge Foundry, a hosted program that works to increase diversity among coders and technology workers through open source workshops.
Bridge Foundry works to support a network of local chapters nationally and internationally that teach a variety of technologies.
Rebecca Garcia, CoderDojo NYC Cofounder & Program Manager
Rebecca manages CoderDojo NYC, a program that runs free monthly workshops in the New York City area for web, game and app development for youth ages 7 to 17.
Rebecca is a passionate advocate for STEM education for youth and minorities, especially women. She has received numerous awards for her efforts, including a 2013 U.S. White House 'Champion of Change' for Tech Inclusion, Glamour Magazine's '35 Women Under 35 Who are Changing the Tech Industry', AskMen's 'Top 99 Outstanding Women' in 2015, and Hispanicize's STEM Star in 2016.
Currently she is the Technical Head of Product at Next Caller and volunteers her time to manage CoderDojo NYC.
Bilal Ghalib, GEMSI Program Manager
Bilal is the founder and catalyst of GEMSI, the Global Entrepreneurship and Maker Space Initiative. Since 2011 he's been helping people create community productive spaces in the middle east. He believes in beauty and wants to share what inspires and enables him.